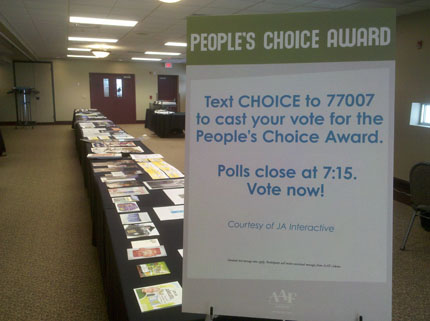 About: The Akron chapter of the American Advertising Federation crowns a local People's Choice Award each year during their ADDY Awards Ceremony.  In the past, votes were collected via paper ballot during the event and tallied on-the-spot by volunteers.
Challenge: The chapter was looking for a new way to capture votes that would require less time to tally during the event.  They were also hoping to demonstrate to their members how SMS marketing could be used in an event scenario.
Solution: The JA.TXT SMS marketing software was implemented to allow attendees to vote for their favorite piece in the People's Choice Award category.  The system kept track of the winning entry in real-time so there was no need to tally any votes by hand.  The software also limited the votes to one per mobile number, eliminating any "ballot stuffing" which had occurred in the past.
In addition, the chapter used the SMS marketing software to give away an iPod Shuffle during the event.  Chapter members were encouraged to "text in for their chance to win" through direct mail promoting the event and signage displayed at the event.
Results: A majority of attendees voted using the SMS-based system, and the chapter was able to announce the winner quickly during the event.  The winner of the iPod Shuffle was called live from the podium.  Audience members enjoyed the suspense as everyone checked their phones for an incoming call.  When the event was over, the Akron Ad Fed had built a significant mobile marketing database which can be used to alert members of upcoming events and functions.