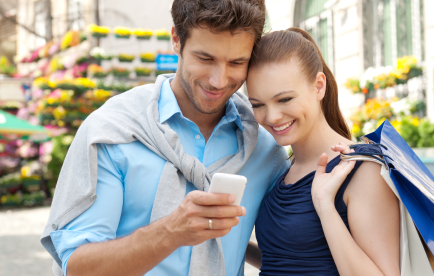 Most retail companies depend upon loyal clientele for repeat business and the dilemma that they have faced over the years is how to keep them coming back on a steady basis?  In today's economy that question is even more important, but the challenge for most retail companies is how can they cost effectively keep the customers coming back?  Building a loyalty program is one of the best ways to keep customers coming into their stores, and retail SMS marketing campaigns can play a major role in successfully marketing to retail customers.  JA.TXT has been a leader in the retail mobile marketing industry since 2005 offering clients a wide variety of text message marketing services for the retail industry.
SMS Marketing Software
SMS marketing, or text message marketing, is considered a great tool for retailer's marketing campaigns. When a customer opts in to receive text messages from the retailer it gives the business owner a direct channel to their customers.  Most consumers today are extremely busy and they value their time even more so than in the past. Because of this it requires retail companies to be more timely and direct in their marketing efforts.  SMS marketing will enable a retail business owner to send out alerts for sales, close outs, and promotions simply and effectively, given that the customer has opted in.  The probability of the customer reading that message and expecting an action is greater than what most any other marketing services can provide.  JA.TXT offers a wide variety of solutions to help grow your retail business, and we consult with you on how to effectively market to your current customer base.
When a retail business does employ text marketing or an SMS mobile program, they are actually engaging in a one on one conversation with the client. This in turns establishes a sense of trust from the customer and positions the retailer as a business that cares about them.
3 Step Example of SMS Marketing for Retail:
During a grand opening event attendees are given the chance to text in and join the store's mobile club, receiving an exclusive discount to use on purchase that day.
Shortly after the event, the mobile club subscribers are texted a message thanking them for attending and giving them an offer good for their next visit within 30 days.
Before an exciting product launch members of the mobile club are sent a text message that allows them to come in before the general public to see the new product, and have the opportunity to purchase it first.
What benefits can a retail store expect from utilizing text marketing campaigns?  SMS marketing programs have been designed to increase the amount of times a purchase is made by existing customers.  A strong text message marketing campaign will offer these customers a coupon or possible other promotional items to promote the business and encourage the customer to come into the store to make a purchase.  Most retail businesses only send out the coupon or promotional item, but to keep customers engaged they should also use text message marketing programs to send out additional information offering value, like new product launches and events, without a coupon or promotion.  By doing so you are marketing to them, but in a soft way which consumers appreciate since all of us are bombarded with advertising messages on a daily basis.
Regardless of what type of retail business you are in it is important for you to remember those customers have given you something of great value, they have given you the permission to market to their mobile phone. It is also important to remember that you should not abuse the privilege.   Your text message marketing campaigns should offer your customer value, and in return you will see an immediate lift in your retail business.  Over the last few years the acceptance of text messaging as a way to directly connect businesses with their customers has steadily risen.  Since 2005 JA.TXT has given their clients a chance to cost effectively reach their customers in a way that help businesses grow.  Contact us  today and find out how we can help your retail business with text message marketing!