You know something you don't hear very often in a radio spot? "Send us an email to be entered into a contest to win…"
Have you ever been to a rally where the speaker told everyone to send an email to get involved?
When you're walking down the street you never see an outdoor advertisement that tells you to send an email to learn more about a product or service.
Why not? Because email isn't a very good call-to-action in those scenarios.
If you're focused on email marketing somewhere on your list of goals is probably "increase list size." The trouble with that goal is there are only so many ways you can grow an email list, and many of those ways depend on web traffic or the dreadful clipboards and pens.
Is there a better way for offline efforts to grow an email list?
Yes, using text messaging. Text messaging is a great call-to-action because it's simple, easy, and everyone has it on their phone (unlike email). It also helps that you don't have to come up with a subject line or key-in a long address.
How Does It Work?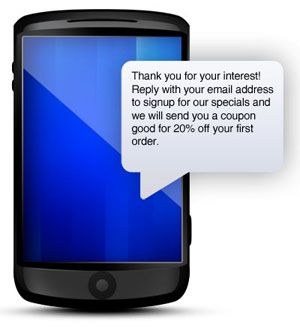 In the scenario of the rally above, a speaker and the printed materials handed out at the event would direct attendees to send a text message to get involved. For example, "Text the word SUPPORT to 12345 to sign up and find out how you can help us!"
After doing this the user would receive an immediate text message back asking them to respond with their email address to join the list. After responding the user would then receive a final text message confirming receipt of the address. If additional information is needed, like a zip code, this can be requested with another text message.
Once the email address is received it can be saved in a database for download later or pushed directly into an email marketing platform so the user has the welcome email waiting for them when they get back to their inbox.
The 3 best opportunities where text messaging can grow an email list
1. Traditional media: Just like in the example above, text messaging is a much easier call-to-action for your TV, radio, print, or outdoor ad. Have your audience text-in to get a coupon for your product or register for an upcoming event via email.
2. Events: Lose the old-fashioned, tacky clipboards and make signing up easier for your attendees. Nobody likes to wait in line for a pen. Have the speaker direct attendees to sign up in seconds by texting-in. Pass out cards with the instructions while people are walking in or out of the event. Tie signing up to an on-the-spot giveaway and drive even more participation. Hint: Call the winner from the stage at the end of the event, everyone will love it.
3. Foot traffic: Give all those people walking through your door or waiting in line an easy way to join your email loyalty club. Have them text-in for an email discount good on their next visit.
We hope this gets you thinking about ways to use text messaging to grow your email list. We're sure you can come up with some great ideas we haven't covered here. If you feel like sharing, drop in a comment below. We'd love to hear what you come up with!