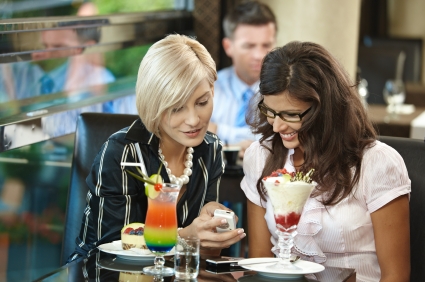 One of the first industries to start using text message (SMS) marketing was the bar and restaurant industry.  SMS marketing works well with the cyclical nature of their business and they have an on-site captive audience.  While websites will always play an important part in marketing efforts, customers coming through the front door with their phones in-hand provide an excellent opportunity for building a loyalty database.
We have helped several restaurants take advantage of text message marketing and here's what we've found in the two most important areas.
SMS List Growth: Traditional media is always a great driver of SMS list growth.  In the past a call-to-action for a restaurant ad could only direct the potential patron to "visit our website" or "call for reservations".  With an SMS call-to-action the ad viewer can text-in for an instant coupon and then the restaurant can remind them about that coupon in a few days.
But perhaps the most effective and low-cost way for a restaurant or bar to grow a text message marketing list is inside their establishment.  By setting up table tents, signs behind bar, or in the restrooms they can launch an SMS loyalty club very easily, and for very little expense.  The best incentives are usually giveaways and instant coupons but sometimes more creative ideas work too, like trivia or surveys.
Revenue Drivers: The goal of any bar or restaurant is to fill the place as many nights as possible.  Obviously this isn't as difficult on a Friday or Saturday night but can prove challenging on some weeknights, especially if the weather isn't cooperating.  Using the text messaging list to send out "today only offers" is a great way to combat these challenges instantly.
When the weather looks bad the restaurant can send out a "show your phone" offer that afternoon hitting the target audience at the moment when they will make plans for the evening.  Promotions like "Brave the snow and we'll give you a free entrée when you buy another. Show this message to you server" have delivered redemption rates of 10-15% for restaurants with an SMS marketing database.
If you're responsible for marketing one or more restaurants, and would like to hear more about our SMS marketing software, please call JA Interactive at 1-888-932-0999 or request an online demo here.