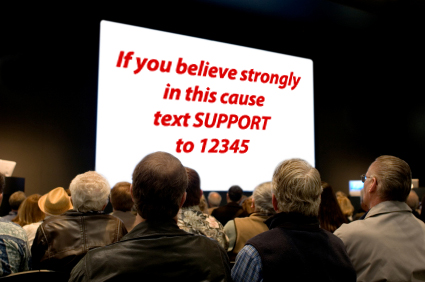 Looking for a way incorporate some mobile marketing at your next event? Here are four ways you can use text messaging to engage your audience and build a database –
1. Email capture
Stop putting out the same old clipboard and trying to convince attendees to scribble down their email address. Make it easier on them and you. Put up a sign, hand out flyers, or have the speaker direct the audience to send a text message to opt-in to your email database. Depending on your email marketing platform you may even be able to set this up so they instantly have a welcome email waiting for them when they get home or back to the office.
NEW! We have released Join By Text, a product that makes capturing email addresses from SMS very cost-effective.  Learn more about capturing email list signups through text messaging at www.joinbytext.com.
2. Voting
Are you participating in an event where the audience gets to vote on something? Avoid the hassle of paper ballots and have attendees send a text message to cast their vote. The results will be tabulated instantly and accurately, without counting by hand and the risk of human error.
3. Feedback
Do you want to hear what your attendees thought of the event? Get their feedback while it's fresh in their mind. Use text messaging to capture their thoughts or have them take a quick survey on the spot.
4. Giveaways
Instead of "putting out the fish bowl" for business cards, have your audience send a text message to enter the contest. You can take this opportunity to direct them to your mobile website, or ask them for their email address (see #1) in the entry confirmation message.
What do you think? Have you tried any of these? Drop us a comment below!