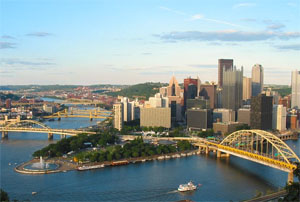 Because JA.TXT was founded in Pittsburgh this is the location of our original clients who gave us a chance before anyone else.  One of the first was the American Marketing Association of Pittsburgh.  We've helped them run text message marketing campaigns for giveaways at events, commercials on television, and even questions from the audience at large-scale seminars.  They've been using their mobile marketing database to remind members about upcoming events and last-minute happy hour get-togethers.
The Pittsburgh chapter of the American Marketing Association holds a variety of events from monthly luncheons, to evening networking events, to half-day topic summits with some very well-known national speakers.  If you are a marketer located in the Pittsburgh area you need to do yourself a favor and check out their upcoming events.
Another early adopter was the Children's Museum of Pittsburgh.  This innovative museum provides some amazing exhibits and programs for the young curious minds of Pittsburgh.  Their team has been using JA.TXT to build a database of both museum goers and potential donors.  This database helps them drive attendance to the museum on lighter days and drive donations when they need them most.
On your next trip to Pittsburgh with the little ones be sure to put the Children's Museum on your list.  We guarantee you won't regret it!
If you're located in the Pittsburgh area and you're interested in learning more about our text message marketing software don't hesitate to drop us a line.  We would be happy to get together for lunch or coffee (we certainly know a few good spots).
Metro Monday gives us a chance to talk about (and plug) some of the organizations we're working with in different areas around the country.  We're thankful for the opportunity to help these clients start a SMS marketing campaign and we look forward to helping you!