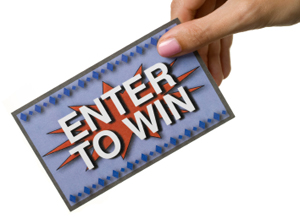 We've helped many clients run text messaging giveaways.  This is where the audience sends a text message, and maybe even responds via SMS with their email address, to win a prize.  The mobile numbers and email addresses are stored in a database for future messages and the winner is chosen.
When we're working with the client to determine the prize they almost always bring up some sort of "i" product; iPad, iPod, etc.  Obviously the thought here is "everyone loves the iPad and everyone will try to win one."  While this might be true, the client is almost never selling a product or service that "everyone" wants.
Qualify Your Database on the Way In
Sure, while giving away an Apple product might yield the biggest database it doesn't yield the most interested database.  For example, if you're a carpet cleaning business running radio spots with the call-to-action "text in for your chance to win a whole house cleaning for free!"  You're going to get a list full of people who actually want and need carpet cleaning, not just everyone looking for a free gadget. If you have really dirty carpets this offer may be even MORE attractive than an iPad, and get your attention faster.
Build a Database of People "On the Fence"
After you pull the winner you're going to have a list of people who are primed for a "second chance offer" or "last-minute deal" that will encourage them to buy.  Why not send them a text message or email when business is slow?  For example, "schedule an appointment for a free quote this week and get 20% off per room!"
Everyone is Looking for an Excuse
Let's face it, we all have a list in our heads of things we want to buy but haven't yet because there's hasn't been a good "excuse" or great deal.  Give us the chance to win that product or service for free and we're going to take it.  Give us a great follow up offer with an expiration date on it?  Well, you'd be surprised how many people will start calling and how effective this technique can be.
Sometimes it's a Good Idea to Giveaway an iPad
There are some situations where giving away an Apple product can be effective.  Let's say you're attending an industry tradeshow that will be full of your target audience.  Since admission to the tradeshow has already qualified them, giving away something very attractive like an iPad might make sense.  Now your goal is to capture as much of the audience as possible, rather than fill your database with people who will never be interested in your messages.
What have you tried as a mobile marketing giveaway? Leave a comment below!