We've been involved with text message marketing since 2004, and still one of the most common questions we hear is the most general one – "What is SMS (or text message) marketing?"
How Does Text Message Marketing Work?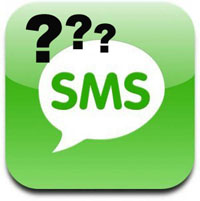 We like to answer this question with a quick walk-through that demonstrates how SMS marketing works:
Step 1 – A mobile phone user sees something that directs them to text a keyword to a 5-digit shortcode.  For this example let's use a pizzeria.  The instructions could say "Text PIZZA to 12345 for your chance to win free pizza for a year!"  These instructions could be placed on the top of a pizza box, read aloud in a radio ad, printed on the side of a bus, anywhere.
Step 2 – The user composes and sends a new text message on their phone.  The "to" address will be 12345 and the message body will be "pizza."
Step 3 – That message is received by SMS marketing software that stores the user's phone number and immediately sends back a response, something like "Thank you for entering to win. We will be picking the winner on …"
Step 4 – At some point in the future the pizza shop can log in to their text message marketing software and send a text message out to everyone who has entered the contest.  They could do this to announce the contest winner or promote a special at the restaurant.
Similar to email marketing the goal of SMS marketing is to build a database of subscribers and then message them in the future with specials, promotions, news, etc.  The software used to run text message marketing campaigns is web-based (accessed with only a browser) and very similar to email marketing software.
SMS Marketing Best Practices
A couple important things to remember when starting and running a text message marketing campaign:
Always make sure messages sent to your subscriber database say "reply STOP to stop" (or something similar) at the end.  Just like with email marketing it's crucial that subscribers can remove themselves, or opt-out, from the list.  Your SMS marketing software should handle this automatically so they do not need to be removed by hand.
It's a good idea to let subscribers know by entering a contest or texting in for something else they will be added to a marketing database.  Adding some copy that says "By entering this contest you will signed up for our mobile club and receive no more than two messages per month" near the instructions is usually sufficient.
Do you have other questions about SMS marketing?  We would be happy to help.  Feel free to post your question below or contact us at your convenience.
If you found this useful please share it with your favorite social network!