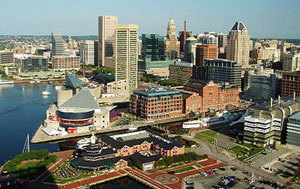 We started helping a few clients in Baltimore with text message marketing after we connected with the email marketing experts over at Blue Sky Factory.  We help their clients with SMS and they help our clients with email marketing (it's a match made in heaven).  If you haven't taken a look at their Publicaster email marketing software you should.  It's powerful software supported by friendly, energetic, and extremely helpful account managers.
If you're ever in the Fells Point area of Baltimore we recommend stopping by Todd Conner's.  This unique bar and restaurant is one of our favorites.  You'll always find the chef preparing a unique dish and the bartender serving up an original cocktail.  You'll also find them using our SMS marketing software to notify their loyal patrons about specials and events.
If you've had "one too many" at Todd Conner's we recommend getting a room at the Admiral Fell Inn just down the street.  Whenever we make the trip to Baltimore we always stay at this charming hotel (the only one in Fells Point we believe).  They're not using our text message marketing software (yet) but we like the place so much we wanted to give them a plug anyway!
If you're located in Baltimore and you're interested in a text message marketing software for your organization please drop us a line.  One of us would be happy to stop by the next time we're in your area!
Metro Monday gives us a chance to talk about (and plug) some of the organizations we're working with in different areas around the country.  We're thankful for the opportunity to help these clients start a SMS marketing campaign and we look forward to helping you!