JA.TXT is pleased to announce email opt-in integration with ActiveCampaign.  Since 2003 ActiveCampaign has focused on usability, simplicity, competitive pricing, and an intuitive email marketing platform.  Like us, they pride themselves on a fast and friendly support staff.  They also believe in integrating their platform with other technologies (they have loads of cool add-ons available!)
How Does it Work?
A keyword inside your JA.TXT account can be used to ask people for their email address and then add them to your ActiveCampaign list.  This can be useful when you're trying to collect emails offline at events, your brick and mortar location, or through traditional media.  It only takes two quick text messages for them to join your list.
NEW! We have released Join By Text, a product that makes capturing email addresses from SMS very cost-effective.  Learn more about capturing email list signups through text messaging at www.joinbytext.com.
3 Easy Steps to Integrate with ActiveCampaign
1.  You create a web form inside your ActiveCampaign account that will be used to capture the signups.  It is recommended you also create an autoresponder for that list so new members will receive a welcome email immediately.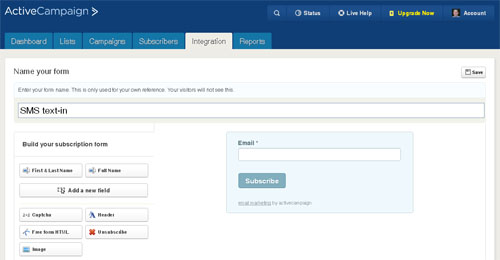 2.  Forward the code for that web form (or the link) to your JA.TXT account manager.  They will integrate this with your account and discuss the best text message responses for your campaign.
3.  When someone texts your keyword to the short code, the JA.TXT system will ask them for their email address.  When they respond, that address will be submitted through the web form and into your Active Campaign account immediately.
We are very excited about this latest integration and we look forward to helping you launch your first email capture campaign soon!
Why Do I Want to Capture Email Addresses through SMS?
There are many advantages of collecting emails via SMS.  For more information please check out the following blog posts: